Most people that have taken up photography have probably been inspired to do so by seeing the results of others efforts and thinking "I could do that!"
That was the case for me and it was motorsports photography that inspired me to take up the hobby.
For others, it may have been other sports such as rugby, soccer, tennis, netball, basketball, swimming or volley ball – the list is endless.
For me, it's the goal of capturing that unique split second that essence of the action. A goal, a facial expression, the torment or the intense strain sportspeople put themselves through in an attempt to be the best in their field.
I'm fortunate enough to live near the world-famous Brands Hatch Circuit in Kent. It hasn't seen Formula 1 racing since 1986 but it's an iconic circuit with two configurations (Indy and the longer Grand Prix circuit).
Then there's the classic elements such as Paddock Hill Bend, with its 8% gradient leading you down to Druids the hairpin bend where many a car has ended up in the gravel.
It still hosts many great events such as the American Speedfest and two sessions of the British Touring Car Championship (BTCC) every year – with support races.
You'll need a bit of skill, all of which can be learnt, patience and a little investment in kit to get the best shots. As you can't get too close to the track (apart from at corners like Druids where you can get inside the track loop) a zoom lens will be needed. The fencing also means it can be a challenge to get the low angle shots so even with a telephoto the shots tend to be from an elevated position in the stands, or through one of the gaps in the fencing.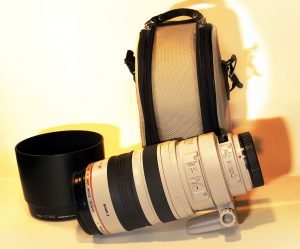 I currently have a Canon EOS 200D with EF-S 18-55 mm f/4-5.6 IS STM Lens and scoured eBay for a recommended lens upgrade. I eventually tracked one down on eBay – not cheap but well worth it.
I've taken it out a few times now, and managed to get some great shots like the one below. Don't think it was easy though. For the 5-10 shots I get which are worth it, I usually take between 800 and 1100 a day to get them. That's the beauty of continuous mode and digital cameras. They only take disk space and you can always delete them – yeah, like we photographers EVER do that!
The thing to do is to stick at it. Good pictures will only come with practise. They say you have to kiss a few frogs before you meet your prints (pun intended). You'll have to take a lot of sports photos before you capture that shot that makes you think "That was all worth it!"
The way to get better will come as no surprise to those that have been through it. It takes planning to get an understanding of the sports venue to get the best shot of the action, research to understand how to get that shot practise and patience……in bucket-loads!
Putting all this together, and with 200 discarded shots in the camera, I got the picture below which made it all worth it. Nobody was hurt though I'm sure the adrenaline levels were high!
Camera: Canon EOS 200D

, 

Focal length: 70mm

, 

Aperture: ƒ/5.6

, 

ISO: 500

, 

Shutter speed: 1/2500s

,